About Yellowstar taxi
Yellow Star Taxis is a family business owned by Sally and Paul, who between them have over 40 years experience in the taxi trade, and many more in the customer service industries. They have utilized these skills to help deliver a friendly, reliable, and secure service that makes us the premier taxi company in the Bognor Regis area.
Our GPRs system operation
Our fully computerized system has GPRs coverage of the whole of the UK secure data, and texts your mobile with the make and registration of the vehicle when we arrive.
Our system is safe and convenient, and you'll know that you are in the correct vehicle.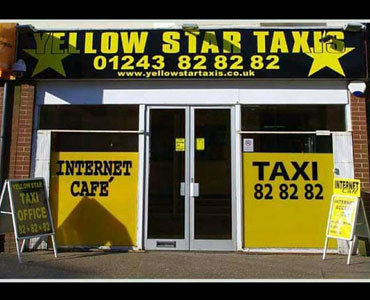 No more looking out for your taxi
Just wait for your text message. We can receive your text messages on 07939 311992. Simply text us your booking, we will text you back to confirm, and your taxi will be on the way.
Our system dispatches the nearest vehicle to your location ensuring waiting time is kept to a minimum.
Operating staff

Karen and Paul are our office managers, and will gladly help you in any way they can. We also have a team of experienced, knowledgeable, and helpful operators at your disposal that are ready to take your call, and help you with any queries you may have about our services.
Karen, our office manager is in the office most days, but our phones and system are also operated by Karen B, Emalee, Jade, Isabel, Sue & Anna. All who have experience of operating our busy office.
Our drivers

All our drivers understand that in order to deliver excellent customer service they need to go that extra mile.
That is why all our drivers have level 2 NVQ in passenger transportation, which coupled with their vast experience helps them to deliver just that.
We regularly receive positive customer feed back on how friendly and helpful our drivers are.
Vehicles for any need
Yellow Star Taxis have a wide range of vehicles including saloons, hatchbacks, estates, (many of these are Mercedes or BMW's) and multi seaters, ranging from 5 to 8 passenger seats.
We also have a specially adapted wheelchair accessible vehicle, that carries up to 6 passengers plus wheelchair.
If you are planning a journey with lots of luggage, we have larger long wheelbase vehicles available that have extra luggage space.
All our vehicles are serviced and maintained to the highest level, to ensure that your journey is carried out in comfort and security.